They say not to give up chocolate for Lent. They say it's a rote sacrifice not a meaningful one.
But in our family, we have a way to give up chocolate and make it meaningful.
You see, it's about the m&m's.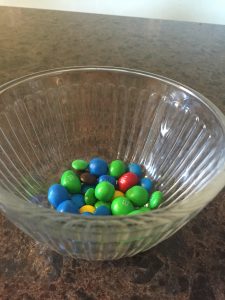 Yep. Because what we do is earn m&m's for good deeds. Share with your brother, give a compliment, help mom without being asked . . .it goes into the bowl to be enjoyed on Sunday. And then to liven it up even more, each kid has a specific color of m&m. And so, on Sunday the person with the most m&m's get a milkshake.
That's how we do Lent.
That's the ideal anyway.
But that's not all.
If you've read my blog you know, I like to take Lent, Advent, New Year's, the beginning of summer and anything else I can think of as opportunities for us to set goals to help us grow in holiness. And if you read my blog you know, it doesn't all get done well or at all. But, as you can see, I keep doing it . . .because I'm hoping that whatever small percentage we actually do accomplish (remember, Advent–35%?) is making a difference, somehow, someway, some small difference.
So as we walk towards holiness this Lent, here's what we have on the agenda (in pictures):
First we (and by that I mean I), set family Lenten goals centered around prayer, fasting and almsgiving.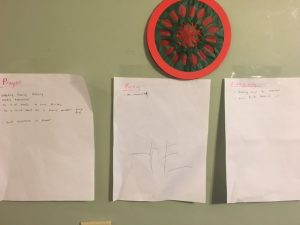 These are posted in the wall. (As you can see, someone was also practicing writing their name on the paper, lol!)
To this end, we have prayer: weekly family Rosary, weekly Adoration (this may only be 5 or 10 minutes since we still have little ones!), do kind deeds to earn m&m's, do a kind deed for a family member everyday and read scriptures at dinner (notice this is a renewal of a New Year's resolution).
Fasting: no chocolate
Almsgiving: blessing bags for homeless. I can't remember exactly where I saw this idea but I'm looking forward to putting these together with the kids this year. These are like gallon sized freezer bags filled with socks and say non-perishable foods and a card saying we are praying for you (no names of course), and maybe a $5 gift card to McDonald's that you can give to homeless you see on street corners instead of handing them cash! I will post a picture when we put them together . . .hopefully this weekend!
Our other item under Almsgiving is to earn the money for Yesenia's jar. You've heard me mention Yesenia before–our sponsored child from Guatemala through the organization Unbound. She was a present to the kids one Christmas so technically it's their responsibility to earn the money we give to her every month, but with our busy lives, it doesn't usually work like that. So during Lent, I fill her jar up with chores that the kids need to do to earn the money we donate to her. It looks like this: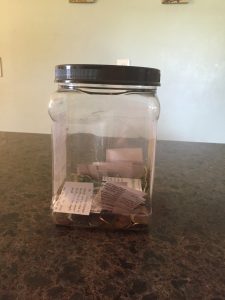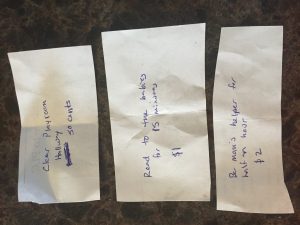 But believe it or not, I'm not done. Those are our family goals. I ask the kids to set individual goals as well. This year, I tried something new to help them set their goals. It was this Lent questionnaire: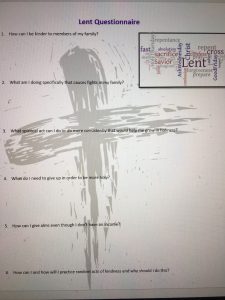 Based on the questions in this questionnaire, I asked them to set four goals (which I discussed with each one individually): how I can help family members get along better, prayer, fasting and almsgiving.
I was very pleased with what they came up with. For example, for prayer, one child decided to focus better, one decided to give a full 15 minutes a day and even my 5 year old decided to say 3 Our Father's a day.
The fasting didn't have to be food and they responded by things like doing spiritual reading before any TV time, and giving up complaining.
The almsgiving is tricky because they have no money but they decided to gather food for our homeless program at church and give things away everyday.
And for family relationships, they chose things like don't retaliate, be kindest to the sibling I struggle with the most, not talking when others are talking, and not taking toys away from others.
And that is a look at our Lent.
Whew! It's a lot to write about and it's a lot to commit to, but you know what? We're all in this year.
How about you?