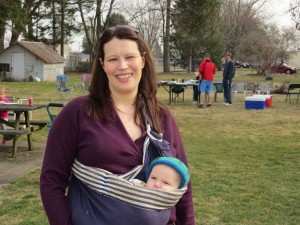 I am a Catholic mom of five ranging from 11 years to 4 months old. I am a convert to Catholicism–I converted to get married but now I am deeply in love with the Faith thanks to the time I spent really learning it!
I am a sling-wearing, breastfeeding, co-sleeping type of parent. For my older kids, I am a no cell phone, no gaming system," I don't care what everyone else has or is doing" type. I do my best to incorporate our love of Christ and the Church in all we do as a family. Ok, so I don't do it that well but I keep trying!
I am a sanguine by temperament which means I love socializing and love to talk about myself and my own opinions! It also means that housework is not my strong point but I do my best! It also means I am an optimist and like having fun. My talent is writing.
Some of the Catholic people/resources that I love:
I have a writing degree from Wittenberg University. In college, poetry was my strong point but I now write more factual content. I was accepted into a Masters program for poetry but I didn't go because we decided to start a family. In my former life (i.e. before I had kids), I was a performance support specialist which means I designed user manuals, online help systems, did in-house training, etc. I keep my skills sharp by editing the newsletter for my parish, but of course mothering is my most consuming, inspiring, exhausting, fun, and frustrating job.
I started this blog because of some of my own incredibly intense personal suffering. This is the kind of suffering that changes your whole life plan and who you are–forever. Will it change me for better or for worse? I want it to be for the better. And maybe in my own process, I can help someone else to do the same.
Want to know anything else? Just ask. I love to talk about myself!