Do you go to Adoration?
I find going to Adoration is like a spiritual life line for me–without which I am often drowning. Sometimes, when I'm there, I feel like God has a message to impress on my heart. And so it was a couple months ago and the message was this:
Prepare for battle.
Now of course, I'm not talking about physical battle but rather spiritual battle.  And I felt the Lord telling me to get my family ready for battle.
So like a good soldier, I got my instructions and did my best to implement them. Here's what I did:
The Picture
Quite a while ago, my family and I attended a healing service at our parish. The priest leading it told a story about how his family had a picture of the Sacred Heart of Jesus and everyday his parents would touch their heads to it and say, "Jesus, take over my life." He has two other siblings in religious life and the other has a thriving marriage with several children.  So it seems to have had an impact. I've been meaning to implement this for a while and it seemed like the right time. Now all of my kids and I touch this picture daily and say those words.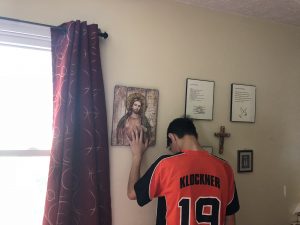 Consecration
I took my family through a Marian Consecration using Father Michael Gaitley's 33 Days to Morning Glory. For 33 days we gathered around every night and read that day's lesson (usually about a couple pages).We would then have a brief discussion of it. At the end of the 33 days, on the feast day of St. Catherine of Sienna, I asked our priest to bless 7 Marian medals, gave one to each member of my family and we stood around a Mary statue in our church and prayed the consecration prayer together.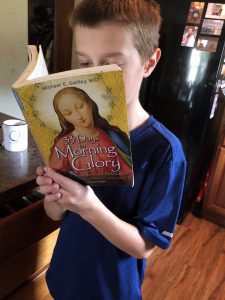 Examination of Conscience
One thing I am dead convinced of is that being self-reflective is the only way you will ever grow as a Christian and as a human being. I figure my kids will not be perfect when they leave the house, but if I've taught them to be self-reflective, then they always have the tools to keep walking their path to sainthood. To this end, I reminded them about the importance of an examination of conscience before they go to bed.  To keep it simple, I ask them to think of one thing they did wrong that day, think how they could've handled it better and then tell God they're sorry. Then, think of one thing they did well that day so they are not just focusing on the negative.
The 8:30 Chat
At about 8:30 every night (or later if baseball dictates), we gather together for a spiritual chat or spiritual reading. Yes, much like the consecration, half the time is spent shushing them and yelling at them to hold still and listen but I have faith that maybe a little is getting through.
I'll go into detail about the 8:30 chat in a future blog.
The Heavy Hitters
Of course, any time you are preparing for spiritual battle, it's time to parade out the classics:  every day prayer time, frequent adoration, frequent confession and the Rosary. We've been trying to get these into the mix as well. Inf fact, during the summer, my kids have a list of morning chores which include a devotion time of their choosing.
Indeed, spiritual battle is happening in my family. We are walking a path of struggle and suffering right now. But,  I think, I pray, these tools help us to walk the path to holiness. That as battle rages, we have the weapons to fight–and to emerge on the other side. Strong.