I just thought it would be different. I mean, ok, I thought everything would be different. I mean I spent the last two years just trying to get up off the mat. And not very successfully I might add.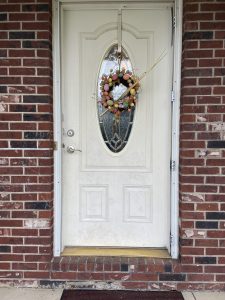 And then you throw in quarantine. And this is supposed to be the answer right? You take away all the practices, games, activities, etc. And now we are supposed to be able to slow down, relax, grow in our faith, bond as a family?
Only it doesn't work that way for a single mom of 5 kids.
Am I the only one who is failing at this?? Am I the only one who feels just as overwhelmed and stressed as ever?
Cuz you know everyone on Facebook is baking bread and going for hikes and making crafts and I'm just doing what I always am –trying to survive.
And I've been a llittle angry to be honest. A little angry at all the posts about taking time to slow down, to reflect, to enter into Lent more deeply. It's just not like that for me.
So ok, then how do those of us already in survival mode survive this? Here's the attitudes that are helping me get through:
Not being too hard on myself. There's plenty to do in a day so I have to understand that not everyday is going to be a good one. I accept that I don't get all the homework done if I want time to do other family things. Or some days we don't do the family things. Heck, some days, we don't get out of our pajamas. There's a lot more, let's call them opportunities left, so I need to let the bad days slide. And then the next day, I get up, wash up and start again.
Judging by the right standards. This is a huge one for me. My anxiety and fears rise exponentially to how much I worry about how others perceive how I'm handling things. Am I doing enough projects, enough schoolwork, enough family time, am I handling the quarantine right, my kids emotional needs right? You know what–I don't know. But I do know there's only one standard that matters. And it's not even mine. Because believe me I can get myself worked up trying to measure up to my own expectations. It's God's standards, God's expectations, that matter. And He isn't judging my results. He's loving me through it.
Keeping my priorities straight. Just like in my unquarantine life there's plenty of things I'm supposed to be doing: eating well, feeding my kids well, exercising, losing weight, doing my prayer time and now throw in there schooling and extra cleaning and keeping the kids active…but what truly matters? It helps to prioritize my energy based on what's the most important to me. For example, the only way a successful day begins is with prayer so putting that at the center of my daily efforts is essential.
The only way is through. This is a lesson I learned recently before all this started. The negative feelings-they're real. Let's not ignore them. Let's not deny them . Let's not sit there and tell ourselves that we're not supposed to feel that way because we're Christians and we know better. Bring them up. sit with them-but sit with them with God. And ask him to transform them.
So that's it. That's how I'm getting through it. Little by little, day by day. I don't have the typical experience but I'm making it work.
And who knows. Maybe there will be a little growing after all.