Once when my husband was going through a dark time, I made him a little book of Bible verses and quotes that could encourage him, give him hope and remind him that suffering had a purpose. It was small so he could fit it into the pocket of his scrubs (he's a PA) and carry it with him wherever he wanted. I ran across it the other day and thought I would share with you the contents to perhaps encourage you as well: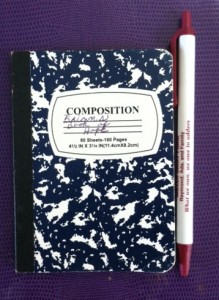 "LORD, my heart is as heavy as lead, and I cannot see beyond this present state of depression. I do not ask, since it may not be Your will to grant it, for immediate consolation. I ask for an increase of faith, hope and love. Given more grace, I can endure my mood of passing gloom. I accept it in a spirit of penitence. Lord, turn my discouragement into true humility." -Dom Hubert von Zeller
"Come to me, all you who labor and are burdened, and I will give you rest. Take my yoke upon you and learn from me, for I am meek and humble of heart; and you will find rest for yourselves. For my yoke is easy, and my burden is light." Matthew 11:28-30
"Love is the measure of our ability to bear crosses." St. Teresa of Avila
"Cast all your worries upon him because He cares for you." 1 Peter 5:7
"Jesus said to me; 'How many times would you have abandoned Me, my son, if I had not crucified you. Beneath the cross, one learns love, and I do not give this to everyone, but only to those souls who are dearest to Me." Padre Pio
but he said to me, "My grace is sufficient for you, for power is made perfect in weakness." I will rather boast most gladly of my weaknesses, in order that the power of Christ may dwell with me. Therefore, I am content with weaknesses, insults, hardships, persecutions, and constraints, for the sake of Christ; for when I am weak, then I am strong." 2 Corinthians 12:9-10
" I was well calumniated, well contradicted, well knocked about. Oh, I had crosses indeed! I had almost more than I could carry! Then I took to asking for love of crosses, and I was happy. I said to myself, truly there is no happiness but in this!" St. John Vianney
"God is our refuge and our strength,an ever-present help in distress." Psalm 46:2
Hope these lift your spirits. Do you have any other favorite quotes or Bible verses of comfort?