What happened to me?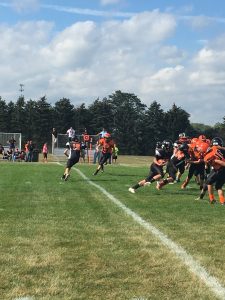 The last thing I posted was about the beginning of football season–a whopping 9 months ago.
It's even more ironic when I tell you the whole story.
How I said in that post my biggest fear was the busyness and the dropped balls.
Boy, was I wrong.
Because on October 14, as I got my boys ready for the first week of play-offs, my worst fear was spending the evening with two miserable, grumpy boys whose games and thereby whose seasons, hadn't turned out the way they wanted.
So I said this to them:
Now remember boys, whatever happens today is God's will.
I wouldn't remember having said that when it all shook out but my younger son reminded me later.
You see my older son was indeed losing. And it was the 4th down with the clock running out and we had one more chance to try and score. So the coach told my son, the quarterback, to keep it and just run.
But when the play cleared there was no first down.
And my son was lying on his back on the field.
With a broken leg.
Now maybe sometime, I'll tell you the whole story if  you're interested. About my slow reaction because I was in disbelief.  About running out on the field and being told to be calm before I could see him. About the coach who stayed by his side.  About my son's pain and worry about his sports career. About my worry and wonder about his sports career.
But that's not the point of this. The point is where I've been.
After that, life got hard. His tibia and fibula were broken clean through and his cast was up to his thigh and he was in tremendous pain.  And I had to give him constant care and had 4 other kids who began to feel neglected and act like it.
I was cracking under it all.
And then something else happened.
Tragedy struck our school community. I won't go in to details but let's just say the death of a child puts a broken leg into a bit of perspective.
And then, some family stuff following that and I got lost just trying to survive it all.
So in a nutshell, that is where I've been. Huddled with the Lord in survival mode watching bombs drop around me and trying to find the path that's been blown to pieces.
But here I am. Ready to walk forward and ready to write again.
You see,I view my days as a path. At the end of the path,  is my goal of reaching God the Father.
And every day, I walk the path. Some days I get far. Some days I only walk a few steps. The worst days, weeks are the ones where I'm swerving back and forth off the path. That's when I lose my focus on the Lord and my thinking gets distorted.
And my saint friends are there too. Helping me walk the path and keeping me straight and comforting me when I fall or when I find that end of the day I am dusty, dirty, bruised and beaten up.
Jesus, Mother Mary and Father Stanley Rother walk with me.
So, yes, I'm back.
And ready to walk with you once again and tell you about my walk with the saints.