So here was Helen (or Helena)–left alone with her son–abandoned so her husband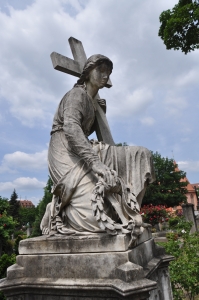 could marry someone else in order to increase his social status.
But Helen took care of her son and he had a great affection for her. And when her son became Emperor Constantine the Great, he supported her in her work to serve the Lord.
Helen didn't curl up and disappear into nothingness. She continued to serve God however she could, including serving the poor, rebuilding churches and finding relics.
What I love about St. Helen is that, because of her journey to Jerusalem where she found the True Cross, she is the patron saint of new discoveries.
And what a perfect motto for those of us suffering.  I've mentioned it a few times that this suffering is changing  the course of my life. And I don't like that course. And I'm sure Helen didn't either. But what a comforting, even amazing thought, to think that my "new" life could have a new discovery waiting for me. Something amazing. Something I don't expect; something I can't predict. And why shouldn't I believe that? Does God not promise to make all things new?
Yes, it's not what I wanted, not what I envisioned but there is something to be discovered here. And if we can lift our head up and just trust God through the pain, I think we could be amazed when it is all said and done. God does not abandon us. He guides us through it–and into something new. Yes, God's timing is all His own. Yes, it doesn't happen the way or the time we think. Maybe it will be a very long time before I see this new discovery. But someday, I think I will be able to look back and see at least that tiny corner of the picture . . . .that God didn't abandon me–that God had something new for me.
It's a beautiful, comforting thought, as is the story of this saint who suffered, picked herself up and pursued what God had for her now!